Chicken Soup with Fire-Roasted Tomatoes & Hominy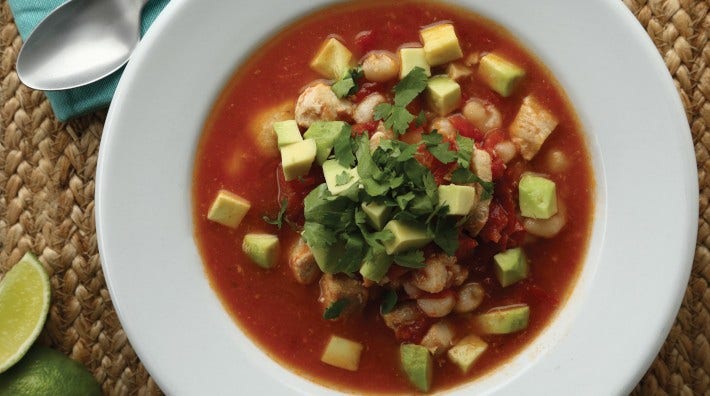 Hominy adds texture and a gentle corn taste, while fire-roasted tomatoes add a smoky flavor to this soup.
4 Servings
12 ounces boneless, skinless chicken breast, cut into bite-size pieces
1 (16-ounce) can hominy, rinsed and drained
1 (14.5-ounce) can fire-roasted diced tomatoes with garlic
3 cups water
1/4 teaspoon ground chipotle
1/2 cup chopped fresh cilantro
1 avocado, pitted and chopped
1 lime, quartered, optional
Per Serving
Calories: 240
Fat: 9 g
Saturated fat: 1.5 g
Cholesterol: 50 mg
Sodium: 410 mg
Carbohydrate: 20 g
Dietary fiber: 6 g
Sugars: 4 g
Protein: 21 g
Coat a large saucepan with cooking spray and place over medium heat. Add the chicken and cook 2 minutes, stirring occasionally. Add the hominy, tomatoes, water, and ground chipotle and bring to a boil over high heat. Reduce heat and simmer, uncovered, for 25 minutes.
Remove from heat, stir in cilantro, and serve topped with avocado. Serve with lime wedges, if desired.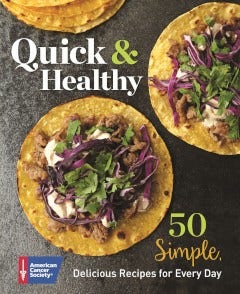 Our lifesaving work is made possible thanks to generous supporters like you.
Donate now so we can continue to provide access to critical cancer information, resources, and support to improve lives of people with cancer and their families.