Grilled Shrimp & Veggies with Balsamic Reduction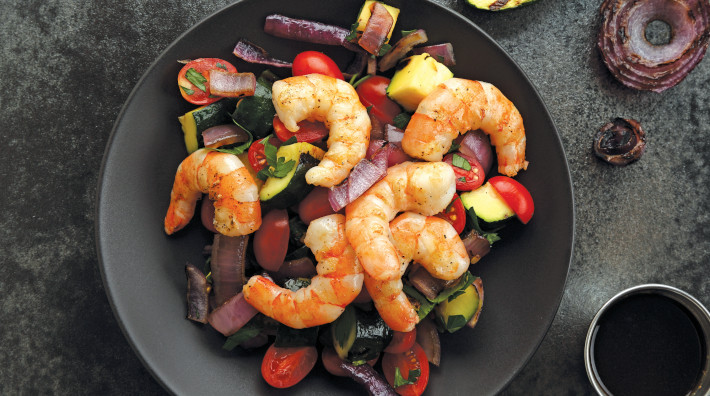 The shrimp can be replaced with chicken tenderloins, if desired. Small chicken tenderloins and medium shrimp will cook in about the same amount of time.
Serves 4
2 zucchini, cut in half lengthwise
1 red onion, cut into 1/2-inch-thick slices
1/2 cup balsamic vinegar
1 pound peeled raw medium shrimp
1 pint grape tomatoes, halved
1/4 cup chopped fresh parsley
Salt and freshly ground black pepper
Per Serving
Calories: 180
Fat: 1.5 g
Saturated fat: 0 g
Cholesterol: 190 mg
Sodium: 135 mg
Carbohydrate: 15 g
Dietary fiber: 3 g
Sugars: 11 g
Protein: 26 g
Heat a grill or grill pan to medium-high heat. Coat the grill rack and both sides of the zucchini and onion with cooking spray. Cook 8 minutes.
Meanwhile, bring the vinegar to a boil over high heat in a small saucepan. Boil for 3 minutes or until reduced to 1/4 cup liquid. Set aside to cool and thicken slightly.
Coat the shrimp with cooking spray. Turn the zucchini and onions and add the shrimp to the grill. Cook the shrimp and vegetables 5 minutes or until shrimp are opaque in center, turning occasionally.
Coarsely chop the zucchini and onion and place in a large bowl with the tomatoes and parsley. Toss gently to combine. Place shrimp on top of the vegetables. Drizzle vinegar evenly over all. Season with salt and pepper. Do not toss.