Snapper on White Beans with Tomatoes & Green Olives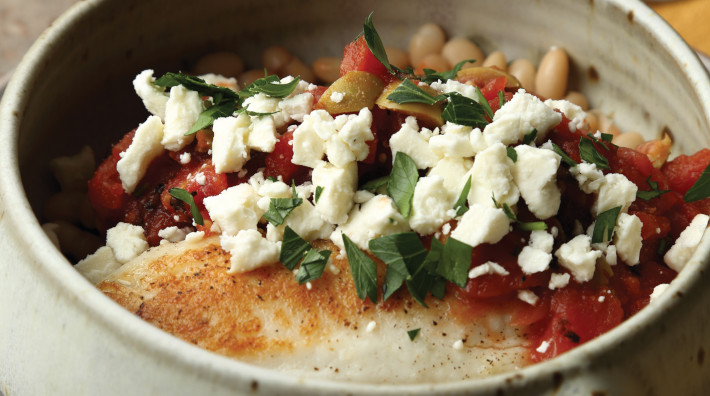 The cooking of this fast-paced dish goes quickly, so prep everything (open cans, chop and measure ingredients) first and have them ready to go.
Serves 4
1 (15-ounce) can navy beans, rinsed and drained
4 (4- to 6-ounce) snapper fillets or other lean white fish, such as tilapia or flounder, rinsed and patted dry
Salt and freshly ground black pepper
1 (14.5-ounce) can diced fire-roasted tomatoes with garlic
12 small pimento-stuffed green olives, coarsely chopped
1/2 teaspoon fresh or dried rosemary, chopped, optional
1/4 cup chopped fresh parsley
1/2 cup crumbled feta cheese
Per Serving
Calories: 270
Fat: 7 g
Saturated fat: 2.5 g
Cholesterol: 50 mg
Sodium: 720 mg
Carbohydrate: 22 g
Dietary fiber: 8 g
Sugars: 3 g
Protein: 32 g
Divide the beans equally between four shallow soup bowls.
Coat both sides of fish fillets with nonstick cooking spray; season with salt and pepper. Heat a large nonstick skillet over medium-high heat. Cook fish 3 minutes on each side or until it flakes easily with a fork. Place on top of the beans.
Combine the tomatoes, olives, and rosemary, if desired, in the skillet. Bring to a boil over medium-high heat and cook for 1 minute. Remove from heat. Spoon over the fish and sprinkle with parsley and feta.