Spinach-Ricotta Stuffed Portobello Caps

Dig into a savory plate of stuffed mushrooms packed with fresh spinach, ricotta cheese, and marinara sauce, topped with fresh basil and a blend of Italian cheeses. Serve a bagged salad and a few slices of crusty multigrain bread alongside to keep things simple.
4 Servings
8 portobello mushroom caps, wiped clean with a damp cloth
2 tablespoons water
1 (5-ounce) package fresh baby spinach
1/2 cup part-skim ricotta cheese
1/3 cup chopped fresh basil, divided use
Salt and freshly ground black pepper
1 cup reduced-sodium marinara sauce, divided use
3/4 cup shredded Italian-blend cheese
Per Serving
Calories: 190
Fat: 11 g
Saturated fat: 5 g
Cholesterol: 25 mg
Sodium: 360 mg
Carbohydrate: 14 g
Dietary fiber: 2 g
Sugars: 6 g
Protein: 14 g
Preheat oven to 425 degrees.
Coat both sides of the mushroom caps with cooking spray and place, stem side down, on a foil-lined baking sheet. Bake 10 minutes, turn, and bake 5 minutes or until tender.
Meanwhile, add water to a large skillet and place over medium-high heat. Add spinach and cook, stirring carefully, 1 to 2 minutes, or until wilted. Remove from heat and stir in the ricotta cheese and 1/4 cup of the basil. Season with salt and pepper.
Spoon half of the marinara sauce on top of the mushroom caps (1 tablespoon per mushroom). Top with equal amounts of the spinach mixture, spoon remaining marinara sauce over all, and sprinkle with the Italian-blend cheese. Bake 10 minutes or until heated through and cheese is melted. Sprinkle with the remaining basil.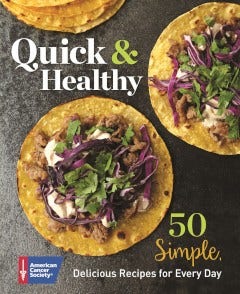 Our lifesaving work is made possible thanks to generous supporters like you.
Donate now so we can continue to provide access to critical cancer information, resources, and support to improve lives of people with cancer and their families.