Turkey & Red Cabbage Tortillas With Chipotle Sauce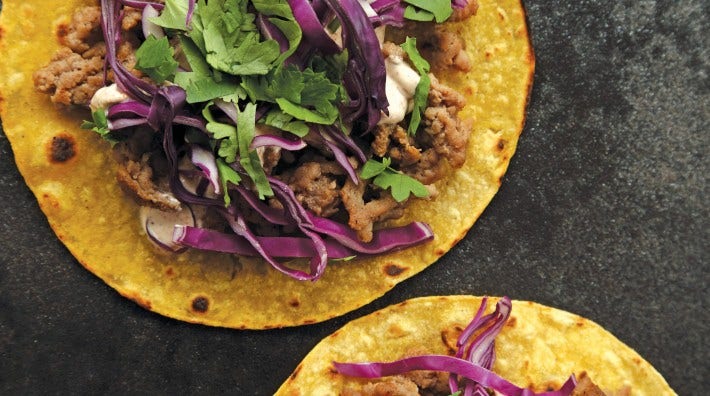 They're bright, they're pretty, and they're packed with flavor in every bite. The smoky chipotle pepper penetrates this dish with just a hint of heat! Using ground turkey breast makes this a very lean dish, but definitely not lean on flavor.
4 Servings
8 corn tortillas
1 pound ground turkey breast
1 teaspoon ground chipotle, divided use
Salt and freshly ground black pepper
1/2 cup reduced-fat sour cream or Greek yogurt
1 cup shredded red cabbage
1/2 cup chopped fresh cilantro
Per Serving
Calories: 310
Fat: 7 g
Saturated fat: 3 g
Cholesterol: 75 mg
Sodium: 95 mg
Carbohydrate: 28 g
Dietary fiber: 4 g
Sugars: 3 g
Protein: 34 g
Heat a large nonstick skillet over medium-high heat and coat both sides of the tortillas with nonstick cooking spray. Working in batches, cook tortillas 1 minute on each side or until just beginning to brown. Set aside and cover to keep warm. Repeat with remaining tortillas.
Add the turkey to the skillet with 1/2 teaspoon of the ground chipotle and season with salt and pepper. Cook until browned, stirring frequently and breaking up larger pieces while cooking.
Meanwhile, stir together the sour cream and the remaining 1/2 teaspoon ground chipotle in a small bowl. Add salt and pepper to taste.
Spoon equal amounts of the turkey mixture onto each tortilla and top with the sour cream mixture, shredded cabbage, and cilantro.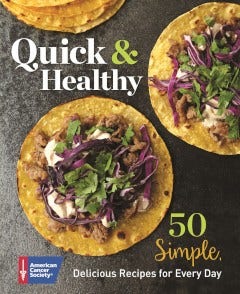 Our lifesaving work is made possible thanks to generous supporters like you.
Donate now so we can continue to provide access to critical cancer information, resources, and support to improve lives of people with cancer and their families.