Tomato and Basil Frittata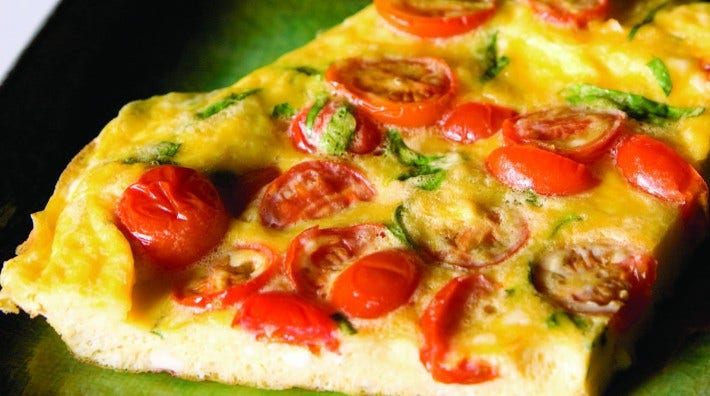 Frittatas are oven-baked omelets that can use all kinds of ingredients. Make ours with grape tomatoes, fresh basil, and feta cheese for a light and simple breakfast, lunch, or dinner.
Prep Time: 15 minutes | Total Time: 30 minutes or less | Servings: 4
Ingredients:
8 eggs
1 cup halved grape tomatoes
¼ cup coarsely chopped fresh basil
⅓ cup feta cheese
Salt and freshly ground black pepper
Preheat the oven to 350 degrees.
In a bowl, beat the eggs. Gently add tomatoes, basil, and feta and sprinkle with salt and pepper.
Coat a 10- or 11-inch nonstick, ovenproof skillet with cooking spray and place over medium heat. Pour in egg mixture and cook without stirring for 30 to 45 seconds, or until the eggs are set on the bottom. Continue cooking, using a spatula to lift the edges of the frittata toward the center of the skillet, while gently tilting the pan so the uncooked eggs run underneath the bottom of the frittata. Cook for 15 to 20 seconds, repeating the process several times until the egg on top is still wet, but not runny. Don't worry if the frittata looks a little lumpy.
Transfer to the oven and bake for 3 to 7 minutes, or until the top is just set. Do not overcook.
Remove from the oven and let sit for 1 minute. Carefully run a spatula around the skillet edge to loosen the frittata and slide out or invert onto a serving plate.
Per serving:
Calories 185
Calories from fat 115
Total fat 13.0 g
Saturated fat 5 g
Trans fat 0.1 g
Polyunsaturated fat 1.5 g
Monounsaturated fat 4.4 g
Cholesterol 435 mg
Sodium 280 mg
Total carbohydrate 3 g
Dietary fiber 1 g
Sugars 2 g
Protein 15 g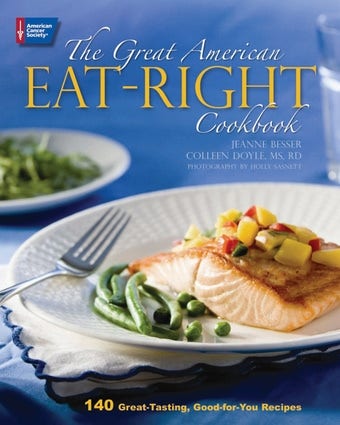 The Great American Eat Right Cookbook
Copyright ©2007 American Cancer Society.

Our lifesaving work is made possible thanks to generous supporters like you.
Donate now so we can continue to provide access to critical cancer information, resources, and support to improve lives of people with cancer and their families.