Cancer Facts & Figures 2022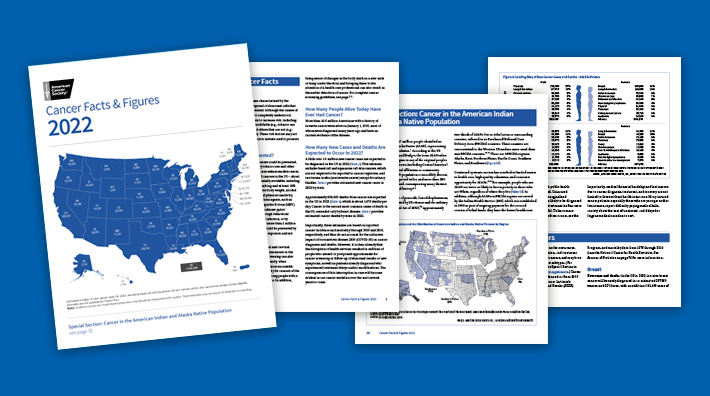 Cancer Facts & Figures 2022 is an educational companion for Cancer Statistics 2022, a scientific paper published in the American Cancer Society journal, CA: A Cancer Journal for Clinicians. The Facts & Figures annual report provides:
Estimated numbers of new cancer cases and deaths in 2022 (In 2022, there will be an estimated 1.9 million new cancer cases diagnosed and 609,360 cancer deaths in the United States.)
Current cancer incidence, mortality, and survival statistics
Information on cancer symptoms, risk factors, early detection, and treatment
Also see this news story: Risk of Dying from Cancer Continues to Drop at an Accelerated Pace
Please note: The projected numbers of new cancer cases and deaths in 2022 should not be compared with previous years to track cancer trends because they are model-based and vary from year to year for reasons other than changes in cancer occurrence. Age-standardized incidence and death rates should be used to measure cancer trends. In addition, estimates for 2022 do not reflect the impact of the COVID-19 pandemic because they are based on incidence and mortality data reported through 2018 and 2019, respectively.

Is the Quit2Heal Clinical Trial for You?

If you smoke and have been diagnosed with cancer in the last 24 months, you may be eligible to participate in a research study that will test a smartphone app to help you quit smoking. 
See if the trial is for you or someone you love: Quit2heal.org
2022 Special Section: Cancer in the American Indian and Alaska Native Population
This year's special section reviews cancer occurrence in the American Indian and Alaska Native (AIAN) population, including the prevalence of cancer risk factors and screening. It highlights racial and geographic disparities and is intended to inform anyone interested in learning more about cancer in American Indians and Alaska Natives, including policy makers, researchers, clinicians, cancer control advocates, patients, and caregivers.
2022 Supplemental Data
This supplemental data set can be used as a resource for cancer control planning at the state level, as well as to address questions from the media or American Cancer Society (ACS) constituents. ACS Regions are encouraged to share this information with staff and volunteers, and to use it with state and local officials, reporters, and other public health and advocacy groups in local communities.
The estimated numbers of new cancer cases and deaths by state and the lifetime probabilities of developing or dying from cancer are also available in an interactive format from the Cancer Statistics Center.
Most Requested Tables and Figures

The most requested tables and figures from Cancer Facts & Figures 2022 have been assembled in an electronic format (PDF) to make it easy for you to use them. Please note that all graphic material should credit the "American Cancer Society, Cancer Facts & Figures 2022."
Cancer Statistics 2022 Slide Presentation
Use the button to download a slide presentation of an overview of current cancer statistics in the US.  
ACS Research in Plain Words
Our Research Highlights overview some of our most game-changing research from American Cancer Society (ACS) staff scientists and from medical schools and universities across the United States that we help support with research grants.