FAQs: CPS-3 Participant Portal
Participant Portal: The Basics
A: To log in to your portal account, you will use a password-less authentication process. That means all you need to access your account is your email address. Instead of needing to remember a password, each time you log in, you'll receive a new one-time code to enter into the webpage. Just remember to keep your browser and webpage open when you go to your email to retrieve the code. 
A: No. Each CPS-3 participant must have a unique email address to use the Portal. If you try to use an email address that's been used by another participant, you won't be able to continue with your account activation. If you want to register for the Participant Portal, you'll need to use a different email address.
A: In the fall of 2023, we switched from our original portal platform to an entirely new, custom-built centralized portal system that streamlines how we collect, store, and use your data. We built this new portal to improve your experience as a CPS-3 participant and continue to enhance data security and privacy measures.
As part of this transition, all of your contact information was transferred to this new portal platform and all of your survey data was saved by the CPS-3 research team on our secure servers. Your survey history will not be immediately visible in your new portal account, but we are working on implementing that feature.
A: The old portal system will no longer be supported after the transition to our new portal system is complete. For data security and privacy reasons, we cannot transfer log-in information to the new portal system. As such, we are asking all past portal users to activate their new portal platform by confirming their email address and date of birth.
A: Updating your contact information in the new portal is easy. 
First:
Go to the top right side of the Portal's home page and click on the icon with the 3 stacked horizontal lines (circled in red in the image on the right).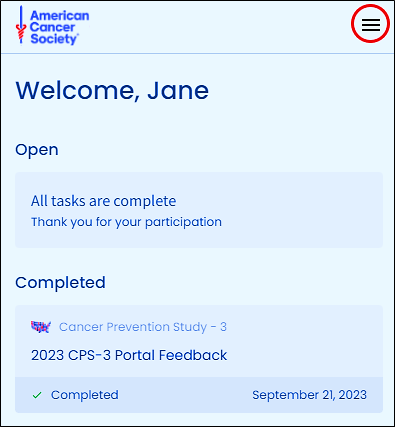 Next:
Under "Participation," go to the "Profile" section (circled in red in the image on the right).
There, you can update your name, email address, mailing address, and phone number.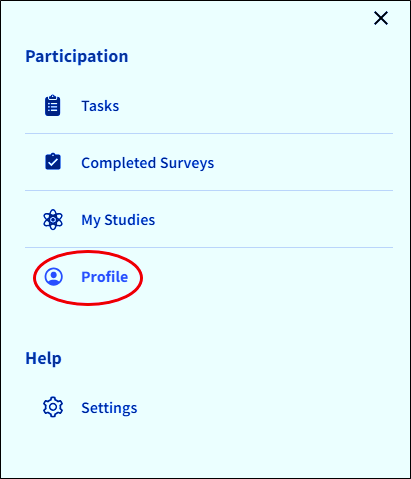 A: No. If you don't want to stay logged in, be sure to securely log out by clicking on the menu icon on the top right corner of the page and selecting 'Log out" at the bottom of the menu. You won't be automatically logged out of your account until 30 days after your initial sign-in or after 15 days of inactivity. 
A: You can reach our CPS-3 Research Team Monday – Friday, 9 am – 5 pm EST by email at cps3@cancer.org or phone at 888-604-5888.
Portal Data Security and Privacy 
A: Yes. Since the launch of the CPS-3 Participant Portal in 2020, data privacy and security has been one of our top priorities. Our partner, Manifold, utilizes industry-leading security standards and will continue to stay updated with online-security practices as they evolve ensuring the website is safe and all personal information is kept confidential. 
A: Manifold is a company the CPS-3 research team has partnered with to provide the technical expertise required to build the new, custom CPS-3 Participant Portal system. Our goal in working with them was to create a private, secure website that would streamline our team's processes and provide a useful, practical, and engaging experience for CPS-3 participants.
Why Your Participation Matters
A: CPS-3 is a longitudinal, prospective cohort study, which means we follow the same group (cohort) of people who agreed to participate in the study over many years (longitudinal) in order to observe key factors associated with the risk of developing cancer. Prospective means when participants enroll, they have not developed cancer. 
Last updated: September 2023