Fusilli With Broccoli and Deconstructed Pesto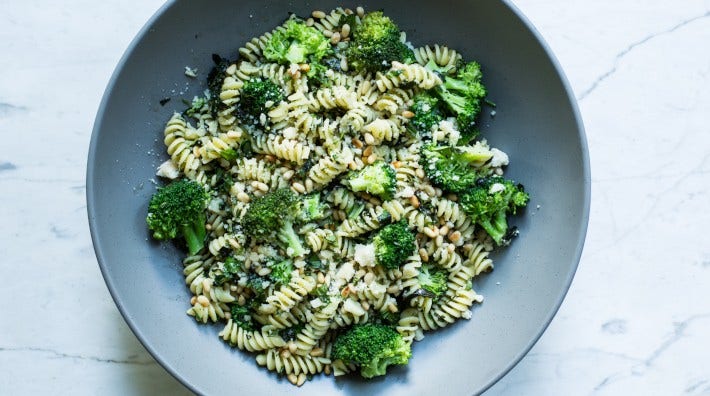 This recipe uses the ingredients found in pesto in a fresh, less muddled way. Instead of blending herbs, nuts, and cheese into a paste, here they are left in their individual states so the flavors sing.
Cooking the garlic mellows it and adding a little chicken broth replaces some of the oil traditionally used to make pesto.
Serves 4
Ingredients:
8 ounces fusilli or other shaped pasta
12 ounces small broccoli florets
2 tablespoons olive oil
5 garlic cloves, minced
½ cup reduced-sodium chicken or vegetable broth
¾ cup chopped fresh basil
½ cup chopped fresh Italian parsley
2 tablespoons extra-virgin olive oil
¼ cup freshly grated Parmesan cheese
2 tablespoons pine nuts, toasted
Salt and freshly ground black pepper
Per Serving:
Calories: 400
Calories from Fat: 170
Total Fat: 18 g
Saturated Fat: 3 g
Trans Fat: 0 g
Polyunsaturated Fat: 4 g
Monounsaturated Fat: 11 g
Cholesterol: Less than 5 mg
Sodium: 130 mg
Carbohydrate: 48 g
Dietary Fiber: 5 g
Sugars: 4 g
Protein: 12 g

Prepare the fusilli according to the package directions for al dente (just firm). About 2 minutes before the pasta is ready, add the broccoli. Reserve ¼ cup of the pasta water before draining.
Meanwhile, in a large skillet over medium heat, add the olive oil. Sauté the garlic for 1 minute. Add the broth and bring to a boil for 3 to 5 minutes, or until reduced by half, stirring frequently. Reduce the heat, add the pasta and broccoli, and stir until coated with sauce. Add the basil and parsley and stir to combine.
Transfer to a bowl and drizzle with the extra-virgin olive oil (if too dry, add a tablespoon or so of reserved cooking liquid). Top with the cheese and pine nuts. Season with salt and pepper.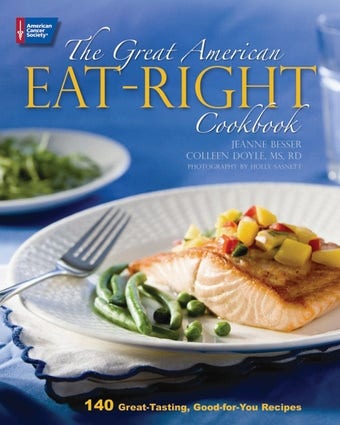 The Great American Eat Right Cookbook
Copyright ©2007 American Cancer Society.

Our lifesaving work is made possible thanks to generous supporters like you.
Donate now so we can continue to provide access to critical cancer information, resources, and support to improve lives of people with cancer and their families.