Skillet Tilapia with Sautéed Spinach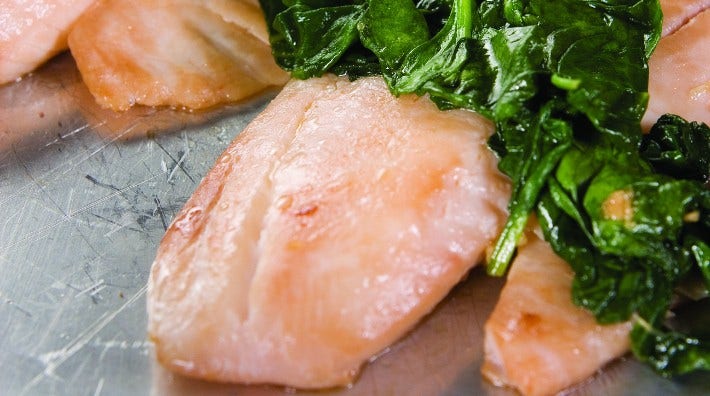 Our quick-cooking Skillet Tilapia with Sautéed Spinach is bursting with flavor and healthy goodness, including omega-3 fatty acids, iron, calcium, folic acid, and other healthy vitamins and minerals. Serve with brown rice for a complete meal.
Ingredients:
1 tablespoon reduced-sodium soy sauce
2 teaspoons fresh ginger, finely chopped
2 teaspoons rice vinegar
1 garlic clove, minced
1 teaspoon Asian sesame oil
1 pound tilapia or other thin white fish fillets
2 teaspoons canola oil
1 (9- or 10-ounce) bag baby spinach
1 tablespoon water
Per Serving:
Calories 155
Calories from fat 55
Total fat 6.0 g
Saturated fat 1.4 g
Trans fat 0.0 g
Polyunsaturated fat 1.9 g
Monounsaturated fat 2.5 g
Cholesterol 75 mg
Sodium 210 mg
Total carbohydrate 3 g
Dietary fiber 1 g
Sugars 0 g
Protein 24 g
In a bowl, combine soy sauce, ginger, rice vinegar, and sesame oil. Lightly brush fish with some of the mixture.
In a large skillet, preferably nonstick, over medium-high heat, add canola oil. Add the fish and cook for 2 to 4 minutes per side, or until cooked through. Remove fish and keep warm.
Add spinach, the remaining soy mixture, and water to skillet and sauté until spinach is bright green and wilted. Push spinach to the side and return fish to skillet. Cover and cook for 30 seconds to 1 minute.
Serve fish topped with spinach.
Serves 4.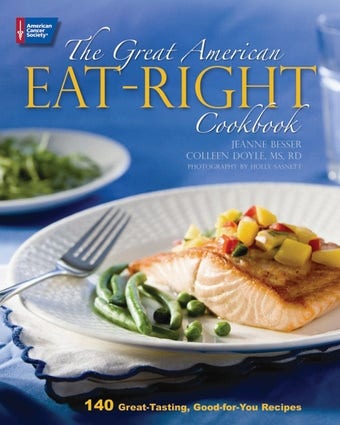 The Great American Eat Right Cookbook
Copyright ©2007 American Cancer Society.

Our lifesaving work is made possible thanks to generous supporters like you.
Donate now so we can continue to provide access to critical cancer information, resources, and support to improve lives of people with cancer and their families.