Crab Salad with Grapefruit, Avocado, and Baby Greens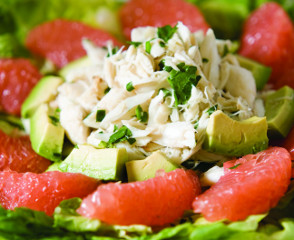 This is a wonderful "ladies who lunch" salad. Sections of pink grapefruit and wedges of lush avocado surround a mound of lightly dressed crabmeat. It couldn't be more "taste-full."
Serves: 2
Prep time: 30 minutes or less
Total time: 30 minutes or less
Ingredients
1 pink or ruby red grapefruit
2 tablespoons extra-virgin olive oil
1 tablespoon fresh lemon juice
¼ teaspoon granulated sugar
½ pound fresh crabmeat, picked over for cartilage
2 tablespoons chopped fresh Italian parsley
1 tablespoon chopped fresh chives plus additional for garnish
Salt and freshly ground black pepper
½ avocado, sliced
4 cups (or 6.5-ounce bag) cut baby Bibb or Boston lettuce
Directions
Peel and segment grapefruit over a bowl to catch juice. Reserve 1 tablespoon juice and grapefruit pieces separately.
In a bowl, combine oil, lemon juice, sugar, and reserved grapefruit juice.
In a bowl, combine crabmeat, parsley, and chives. Add 1½ tablespoons dressing and toss to combine. Season with salt and pepper.
Combine lettuce with the remaining dressing. Divide on individual plates. Add a scoop of crabmeat salad and surround with grapefruit segments and avocado slices.
Grapefruit is not only loaded with vitamin C, but red varieties also contain the antioxidant lycopene.
To easily section the grapefruit, use a paring knife to cut the top and bottom so it can sit upright. Cut off the rind and pith in long downward slices. Carefully cut the sections free, following the natural guide of the fruit.
Per Serving
| | |
| --- | --- |
| Calories | 345 |
| Calories from Fat | 180 |
| Total Fat | 20.0 g |
| Saturated Fat | 2.8 g |
| Trans Fat | 0.0 g |
| Polyunsaturated Fat | 2.5 g |
| Monounsaturated Fat | 13.9 g |
| Cholesterol | 65 mg |
| Sodium | 360 mg |
| Total Carbohydrate | 21 g |
| Dietary Fiber | 5 g |
| Sugars | 11 g |
| Protein | 23 g |