American Cancer Society Signature Programs
Please note, all in person groups are on hold due to COVID-19. Many of the programs have virtual options. Call 518-220-6960 for information and to register. Please leave a message and someone will call you back.
Reach To Recovery - Through our website and mobile app, you can create an online profile and match with a volunteer who has experienced a similar type of breast cancer, stage, and treatment. You can also choose how you want to connect with a volunteer - through online chat, a phone call, or exchanging messages. Within seconds, the Reach To Recovery website and app compares your information and preferences to volunteer profiles and idenitfies the best volunteer matches for you.
Visit reach.cancer.org or download the mobile Reach To Recovery app. 
Road to Recovery - Having cancer is hard. Getting to treatment shouldn't be. If you are in need of a ride to your cancer treatment, we have volunteer drivers that can help.

Cancer Survivor Network - An online support community for those living with cancer as well as their families.  Log onto csn.cancer.org.
On-Going Activities
Interested in attending any of our programs? Schedule an appointment to learn more about the club and to develop a schedule of programs unique to your needs. Membership is free for patients, caregivers, and family and friends, but required to attend support groups, workshops and the children's program. Becoming a member is easy. Just stop by to fill out your membership form and start enjoying the services HopeClub has to offer.
Volunteer Opportunities
If you are interested in volunteering for the American Cancer Society HopeClub, call us at 518-220-6960 to learn about opportunities available.
Support Groups

Wellness Group - Weekly support group for adults with a cancer diagnosis. Members meet weekly to share thoughts, feelings and experiences.
Family and Friends Group - Weekly support group for family and friends of those with a cancer diagnosis. Members meet weekly to share thoughts, feelings and experiences. This group is separate from the Wellness Group.
Recurrence - For anyone who has experienced a recurrence of their cancer. Join us and share laughter, tears, feelings, hopes, and fears with members walking in the same shoes.
Living with Loss Group -  Weekly support group for adults who have lost a loved one or a friend to cancer.
Men to Men - A peer run support group for men living with prostate cancer that meets the third Wednesday of each month.
Take Life Back - Young Adult Group - Join us the second Monday of the month for a discussion designed for people ages 21-45 who have had cancer or are living with cancer. Group discussions are facilitated by Michael Grignon and Jay Hawkins and will cover challenges and opportunities of living life fully after a diagnosis. Registration required - 518-220-6964.
Networking Groups
Networking groups meet to discuss common issues. Open to all who have an interest.
Blood Cancer (Leukemia, Lymphoma and Myeloma) - Second Wednesday of each month 5-7pm in association with The Leukemia and Lymphoma Society. For more information: 518-438-3583.
Breast Cancer- First Thursday of each month, 6-8pm.
Ovarian Cancer - Second Wednesday of each month in association with Caring Together. 6:30-8:30pm.
Young Adult Network - First Thursday of each month 6-8pm in association with the Leukemia and Lymphoma Society. Registration Required - 518-438-3583
Bladder Cancer Awareness Group - Last Monday of each month. 6:30 - 8:30pm.
Hope in the Boat - A dragon boat in the Capital Region comprised of breast cancer survivors. Meetings are the 2nd Monday of the month. Oct-May at 6:30pm. For more information visit www.hopeintheboat.org.
Capital Region Ostomy Assoc. of NYS - Meets the second Thursday of the month. For more information call Maria Engler-Rodden at 518-785-0025
Thyroid Cancer Support Group – Last Thursday of the month from 6:30 – 8:00 p.m. in association with ThyCa: Thyroid Cancer Survivors' Association, Inc. For more information: Mary Grace Luibrand, Facilitator: 518.339.2743 or hudson-mohawk-ny@thyca.org.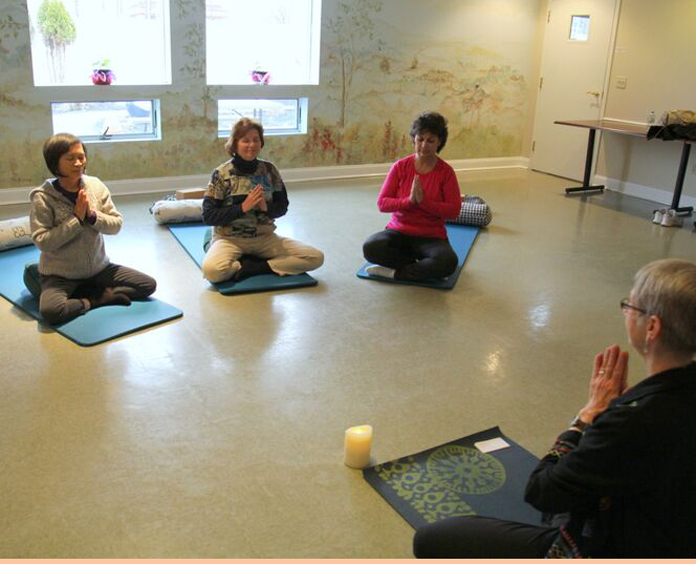 Knitting - Drop in and enjoy friendly conversations while doing your own projects.  We'll happily get you started and help along the way.
Quilting – Sew easy-make friends.  Create a masterpiece!  No quilting experience necessary, but use of the sewing machine is required.
Yoga - This Gentle Yoga class incorporates gentle stretching, postures and stress-reducing breathing techniques.  You will develop balance, flexibility and become aware of your inner strength in the midst of challenges.  The class ends with a seated meditation and a deeply-nourishing relaxation.
Canasta Players - Come and play canasta with seasoned players.  Learn the game or some new tricks to winning it!
Exercise your core - Exercise your "core" to build balance and stability, stamina and back strength while connecting with others touched by cancer.
Massage - Available on alternating Mondays and Fridays in half hour appointments for persons touched by cancer. Register by calling 518-220-6960.
Pilates - Available every Friday. Register by calling at 518-220-6960.
Reiki – Reiki, a technique for stress reduction and relaxation, promotes healing. Administered by "laying on hands", it is based on the idea that an unseen "life force energy" flows through us and is what causes us to be alive. Appointments available on Wednesdays. Register at 518-220-6960.
Zentangle Club – A method of drawing that is easy to learn, relaxing and fun! No experience is necessary. Class limit of 12.
Donna's Vegan Delights – Curious about vegan food and preparation or do you have experience and are looking for new recipes?  Either way come experience Donna's Class where working with grains, beans, vegetables and fruits are second nature.
Children's Programs
KidsClub – KidsClub is for children ages 4-12 who either have or are affected by cancer. Activities include arts and crafts, cooking, music, circle time, and snacks. Held the first Tuesday of the month at 6:00 p.m.

Teen Night – Teen nights are for adolescents ages 13-17 who either have cancer or are affected by cancer. Activities include movie and game nights, music, arts, crafts, and snacks. Held the first Tuesday of every month at 6:00 p.m.
Let's Just Get Together

Bon Appetit – Lunch is prepared by volunteers for members and guests. Registration required at 518-220-6960.
Brown Bag Lunch– The kitchen is open to members who want to eat before or after an activity, or just hang out and enjoy the company. Bring your lunch or dinner and we'll provide tea and coffee (Except on Donna's Vegan cooking dates, please see calendar.)