45 Min/Day of Physical Activity May Help Prevent Some Cancers
ACS researchers estimate 5 hours/week of moderate-intensity physical activity could prevent more than 46,000+ cases of cancer in the US a year.
Researcher: Adair Minihan, MPH
Institution: American Cancer Society
Area of Focus: Risk Factors & Screening Surveillance and Health Equity Science
"Our results show that if adults met recommended levels of physical activity, many cancer cases could potentially be prevented in the United States. State and local health departments may need to partner with a multitude of organizations to raise awareness, provide social support, and develop safe spaces to walk, bike, and play."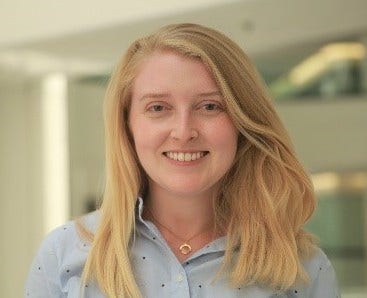 The Challenge: Many countries have conducted studies to estimate the proportion of all cases of cancer that may be attributed to lack of physical activity. Global proportions range from 0.1% in Egypt to 4.9% in Canada.
In 2014, the estimate for the United States was 2.9% of all cancer cases. At that time, the risks of physical inactivity were only studied for breast, colon, and endometrial cancer.
Since then, physical inactivity has been strongly linked with a higher risk of developing 7 types of cancer:
Bladder
Breast
Colon
Endometrial
Esophageal (specifically adenocarcinoma)
Kidney
Stomach
So, we don't know how many cancers are linked with physical inactivity based on this updated list. Nor do we know how the number of cancers linked with physical inactivity varies by each US state.
Plus, scientists wanted to better understand how varying recommended levels of physical activity, as defined in the ACS Nutrition and Physical Activity Guidelines for Cancer Prevention, affect the number of linked cancers
The Research: The American Cancer Society's Associate Scientist II, in Risk Factors & Screening Surveillance Research, Adair Minihan, MPH, led the first study to estimate the number of cancer cases for these 7 cancers by state. She and other ACS researchers published results of their study, which looked at inactivity levels for people age 20 and older in 2003 through 2006 and cancer cases for people age 30 and older in 2013 through 2016 for all 50 states and the District of Columbia.
They used data from self-reported surveys about physical activity that didn't occur at work, which included being physically active to get back and forth from work or school, complete household chores, as well as for fun, recreation, and sports.
Minihan and her colleagues sorted activity habits into 8 categories depending on intensity of the activity or the energy used. The lowest category was being completely inactive and the highest was the equivalent of 5 hours of moderate-intensity activity a week (45 minutes a day). That's the upper limit, ideal recommendation of weekly exercise for adults by the US Physical Activity Guidelines and the ACS Nutrition and Physical Activity Guidelines for Cancer Prevention.
Moderate intensity exercise is any activity that makes you breathe hard and increase your heart rate a bit. You may or may not sweat. Examples of moderate-intensity exercise include brisk walking, leisurely bicycling, and ice or roller skating.
The researchers found that 3% of all cancer cases (excluding non-melanoma skin cancer) were attributable to physical inactivity when the optimal level of physical activity was defined as 5 or more hours of moderate-intensity activity a week. That's equal to about 46,400 people a year whose inactivity was linked to the development of cancer.
They also found that:
Women developed more than twice as many cancers (4.1%) due to physical inactivity compared to men (1.8%).
Kentucky had most cases of cancer (3.7%) while Utah had the fewest cancer cases (2.3%) due to too little physical activity.
The southern states of Kentucky, Louisiana, Mississippi, Tennessee, and West Virginia had the most cases of cancer associated with lack of physical activity for men and women together.
The mountain and northern states of Montana, Utah, Washington, Wisconsin, and Wyoming had the fewest cases of cancer linked to physical activity for both men and women.
The link between certain cancers and too little physical activity was about:
17% of stomach cancers
12% of endometrial cancers
11% of kidney cancers
9% of colon cancers
8% of esophageal cancers (Men are more likely to develop esophageal adenocarcinomas, which are associated with lack of physical activity. Women are more likely to have esophageal squamous cell, which has not been linked with physical activity.)
6.5% of breast cancers
4% of bladder cancers
The authors note that the maximum prevention may occur at higher activity levels, which, they say, many people are unlikely to achieve.
Other current ACS researchers who contributed to this study were: Alpa Patel, PhD, Ahmedin Jemal, DVM, PhD, and Farhad Islami, MD, PhD, who was the senior author.
Why Does It Matter? Having state-level data can help inform the level of cancer prevention and control programs that are needed in that region.
The authors discuss several actions with promising evidence of behavior change that states can support at an individual or community level:
Raising awareness of the benefits of being physically active 45 minutes a day via mass media campaigns across platforms, such as TV, radio, and billboards.
Providing tailored help about changing inactive behaviors to more active ones that people may get through wearable fitness devices, mobile phone apps, text messages, emails, phone calls, or in person with a health provider.
Creating social support to be more active by organizing community-based programs such as exercise groups and buddy systems.
Encouraging regular, safe physical activity by developing safe walking paths with adequate lighting, biking lanes, and outdoor parks. These kinds of improvement in communities' infrastructures may require urban planning and revamped zoning laws.

The authors note several groups that may need extra support to increase daily physical activity:
Children because physical fitness during childhood is strongly linked with physical activity levels in adulthood.
Black populations because studies show that compared to White people and other major racial/ethnic groups, Black people are less likely to participate in high levels of recreational activity. Black people also have higher risks of 2 serious diseases linked in physical inactivity—cancer and heart disease. Eliminating these racial/ethnic and regional health inequities requires understanding and reducing behavioral and socioeconomic barriers to physical activity.
People who have less money are less likely to be active in their free time due to long working hours in low-wage jobs, the cost of personal equipment and gym memberships, childcare costs, and poor access to safe environments to walk, bike, or play in.

More research is needed to help improve long-term behavior change.