Associate Scientist II
Risk Factors & Screening Surveillance Research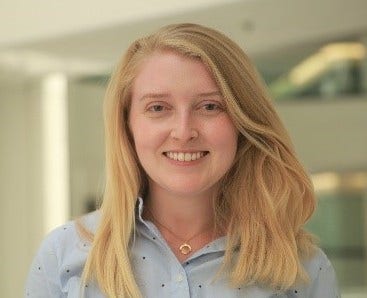 My mom's side of the family is from Milton, Florida, a small town that contains a Superfund site, Naval Air Station Whiting Field. The town is plagued by cancer, my family included. My maternal grandmother passed away from colon cancer that had metastasized to her brain. My maternal grandfather died of lung cancer. My maternal aunt has multiple myeloma and is fortunately in preliminary remission. I fully understand the devastating impacts of cancer, and this knowledge is my motivation to conduct high quality research in cancer prevention."
At ACS since 2019
Adair Minihan, MPH, is an associate scientist II in the Risk factors & Screening Surveillance Research team within the Surveillance & Health Equity Science department at the American Cancer Society. She examines the proportion of cancer cases attributable to modifiable risk factors, such as smoking, excess body weight, and too little physical activity. 
Minihan also studies HPV vaccination rates, cancer screening utilization, and the early detection of cancer.
She co-authors the ACS report Cancer Prevention & Early Detection Facts & Figures
Publications

For a full list of Minihan's publications, visit her Google Scholar page.  
Contact 
adair.minihan@cancer.org 
404-329-5764
Work before ACS
Epidemiology Research & Methods LLC, Consulting Epidemiologist
Emory University, Rollins School of Public Health, Graduate Research Assistant
The University of Texas at Austin, School of Public Health, Undergraduate Research Assistant
Education

MPH: Biostatistics, Rollins School of Public Health, Emory University, 2019
BS: Public Health, The University of Texas at Austin, 2017
Personal life
I live in Atlanta with my brother and my dog, Bean. In my free time, I love to travel and visit family.