Senior Principal Scientist
Cancer Survivorship and Epidemiology Research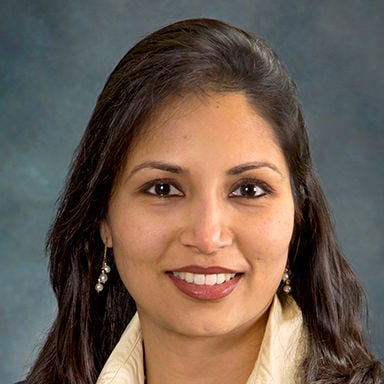 Research has always fascinated me, nurturing a deep-seated passion for discovery. The experience of seeing close friends and relatives battling the devastating effects of cancer sparked my interest in cancer survivorship research. My ultimate goal is to help improve the lives of families affected by cancer. My research at the American Cancer Society focuses on how lifestyle choices and biological factors influence the risk of developing cancer-related side effects and the profound impact those side effects have on the overall quality of life."
At ACS since 2023
As a Senior Principal Scientist, Anita Peoples, PhD, MPH, leads research projects on cancer survivorship, including quality of life and patient-reported outcomes. She is a clinical and behavioral scientist, with training and expertise in cancer control and survivorship, behavioral medicine, and radiation sciences. She works closely with her colleagues in Population Science at the American Cancer Society (ACS) to better understand the role of health behaviors and biological risk factors in the development and management of symptoms and health outcomes.
Research focus and accomplishments

My research to date has included observational and survey studies as well as clinical trials that examine the risk factors, biomarkers, and effective behavioral/pharmacologic interventions to prevent or manage adverse health outcomes stemming from cancer and its treatment to improve overall well-being.  Some of the studies I've contributed to have focused on risk prediction and personalized treatment, especially in underserved and understudied populations.
I am particularly interested in colorectal cancer survivorship and understanding the role of modifiable risk factors, such as physical activity, sleep, adiposity, and diet, as well as inflammation in patient-reported outcomes of cognitive impairment, fatigue, pain, and other related symptoms that can lead to a poor quality of life.
Symptoms such as cognitive impairment can be highly prevalent in cancer survivors and can have a substantial negative impact on their activities of daily living, job performance, mental health, and even survival. I have led and co-led several projects in this research area, which has significantly contributed to the limited evidence.
I am also interested in psychosocial and mental health outcomes. Currently, I am studying the association of social isolation with mental health and overall quality of life, since cancer survivors are at increased risk of social isolation than individuals not affected by cancer.
Publications
For a complete list of Dr. Peoples' publications, visit her Google Scholar page. 
Contact 
Professional Organizations
American Society of Clinical Oncology (ASCO), Member
American Society for Nutrition (ASN), Member
Genetics and Epidemiology of Colorectal Cancer Consortium (GECCO), Member
Education

PhD: Biophysics, School of Medicine and Dentistry, University of Rochester
MPH: Epidemiology and Population Science, School of Medicine and Dentistry, University of Rochester
BS: Physics Honors, St. Stephen's College, University of Delhi